Rudolf J. Karvay
New York Probate Attorney
1-800-939-0235
Probate • Administration • Estate Litigation • Tax • Kinship Hearings
Flat Fee & Contingency Fee Arrangements Available
Call Now for a Free Consultation


KINSHIP HEARINGS - PROVING YOUR FAMILY TREE
You may be an heir or distributee of an estate, but you may still be called upon to prove your relationship to the decedent before you get your inheritance.
The process by which you establish that you are related to the decedent is known as a Kinship Hearing. The hearing is held in the Surrogate's Court and testimony is taken under oath.
The hearing may be held before a judge or a court attorney depending upon the county in which the hearing is held. Other parties that may be present include the attorney for the public administrator, a representative of the State Attorney General's office and one or more Guardians ad Litem. Regular rules of evidence apply at a kinship hearing, and the hearing my be held over several days depending upon the complexity of the case.
Kinship hearings are often complicated and confusing.
Although it may seem as simple as going to court and testifying as to how you are related to the decedent, often you may be precluded from doing so by the "dead man's statute." You need a New York kinship hearing attorney on your side to make sure you get what is rightfully yours.
You may be required to produce disinterested witnesses who are able to testify regarding the decedent's family tree. In addition, you will be required to produce certified documents to support the family tree such as birth certificates and death certificates.
In certain cases it is advisable to hire a qualified genealogist in addition to your kinship attorney.
Call a New York Kinship Attorney Now - Free Consultation
1-800-939-0235
Degrees of Kinship or Consanguinity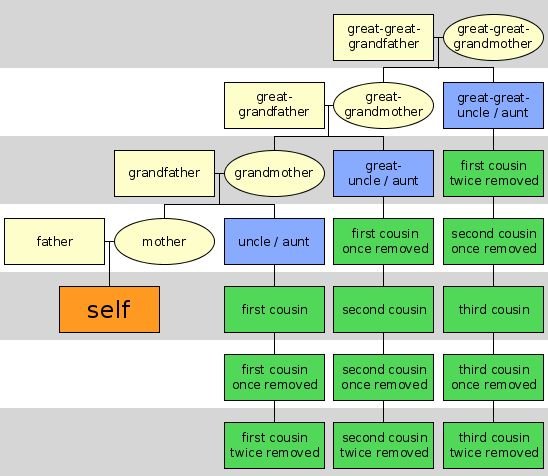 This chart displays the relationships between relatives.
What is your relationship to the decedent?
Contact Information
Main Office:
100 Garden City Plaza, Suite 300
Garden City, NY 11530
(516) 780-0281
(631) 944-8034
(718) 360-9014




For a Free Consultation, please fill out and submit the form below.